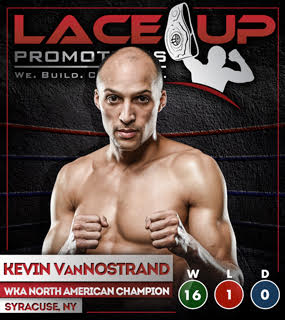 Kevin VanNostrand
LOCATION: Syracuse, NY USA
WEIGHT CLASS: Jr. Welterweight
RECORD: W-17, L-1, D-0, KO'S-12,
TRAINER: Jim Andrello
TITLES: WKA Amateur World Champion;
WKA World Middleweight Champion;
WKA North American Champion
Biography
Kevin was born and raised in Liverpool, NY & started martial arts at the young age of 8. He has earned a 3rd degree black belt under Shihan Jim Andrello and quickly began to get recognized for his athleticism and electrifying performances. He found his niche to be in the art of muay thai and compiled an unprecedented 14 fight streak of knockout victories. Big wins in his amateur career over tremendous fighters such as Chris Greig, Harold Lindor, Alex Rozicki, Axel Mendez, Chris Williams and Niko Tsigaris boosted VanNostrand to a #1 ranking in the world.
As a professional he has an impressive undefeated record defeating some of the worlds top fighters such as Justin Greskiewicz, Carlos Lopez, & Alexandre "Popo" Bezzerra.
Currently Kevin is the #1 ranked professional Welterweight in Full Rules Muay Thai in the United States having claimed the World Kickboxing Association title in June of 2015.
Kevin is signed under the LaceUp Promotions banner and looks forward to many more exciting victories in the coming years!