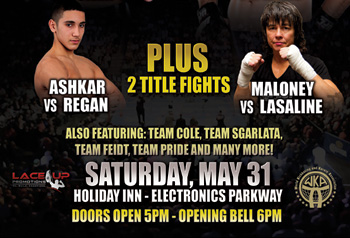 Join us for an exciting night of world-class fights, including 2 Main Events featuring VanNostrand vs. Silva & Stevens vs. Hines. Presented by Lace Up Promotions.
Also Featuring Two Title Fights! Ashkar vs Regan and Maloney vs. Lasaline, as well as Team Cole, Team Sgarlata, Team Feidt, Team Pride and many more!
Check your local Team Impact, Team Cole and Team Pride dojo's for tickets.